Name: Scarlet Tokoyama
Nickname: Red Devil
Age: 19
Height: 5'9
Weight: 167lbs
Hair: Dark Red
Eyes: Light Green
Nationality: Japanese
Alignment: Heel
Entrance Music:
Fight Attire and Appearance: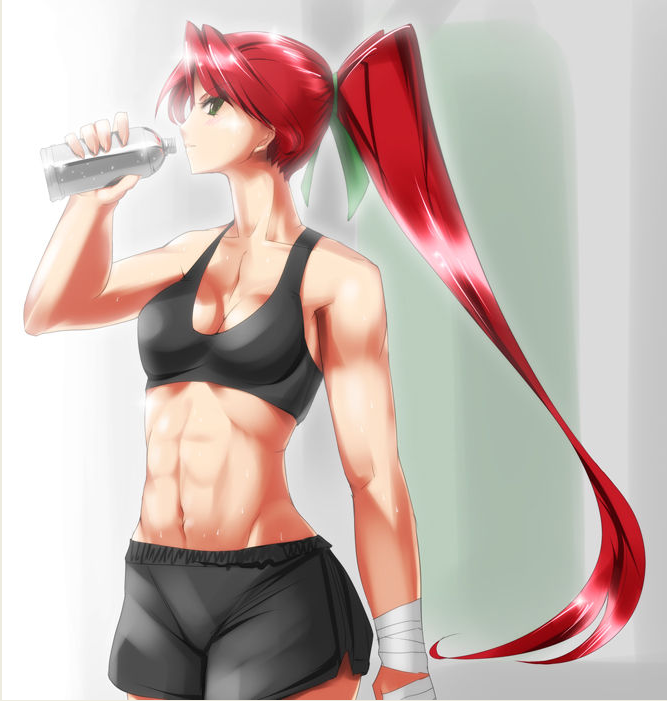 Style: Wrestling, Submission, Striking, Kickboxing, Taekwondo, BJJ
Strategy: Overwhelm with speed.
Strengths / Weakness: Very good speed and technique, but struggles to fight people people who are above her weight class, using strength alone.
Attack Preference: Enjoys the use of kicks and punches, if it's against bigger opponents, then going for smarter techniques like choke-holds or kicks specialized in places that are meant to knock them unconscious
Favorite Finisher: Choke/Sleeper Hold
Match Preference: Open to any.
Stats:
Endurance: 5/5
Strength: 3.9/5
Speed: 4/5
Defense: 4/5
Technique: 5/5
Personality: Scarlet is the very definition of a sadistic mind human being. Enjoys picking at the weak and strong alike, does not hold back into fighting either as well, as she will fight anyone equally and enjoy it to its fullest possible degree. Meeting her in a casual setting she will be having a personality of some of the most charming and nice people you'd ever meet, but in the ring you will be having an experience with her that can only be described as complete and utter creepiness, out of her lack of mercy in any regard, until her opponent is passed out or declared the winner, she will do anything it takes to win in the most satisfying way possible.
Enjoys: Fighting, strawberry cake, inflicting pain and humiliation in her opponents.
Past/History: Scarlet being a child prodigy in the fighting world from the early age of 12, winning every kind of tournament you could think of with her impeccable skill and speed for her age and weight group, she quickly grew tired of fighting. Not due to a lack of enjoyment of it, but due to how her fights always seem to be with protective gear on, and mostly working on a point system. At the age of 16 , she started getting into wrestling, excited that there was no protective gear in the sport, and kicks and stirkes were also allowed, Scarlet was ecstatic and entered absolute euphoria whenever she got to spar and fight against other people in a wrestling format, as after a while she decided to enter LAW, and wrestle there like she never wrestled before, against strong and weak opponents alike, hoping for just a real good time!