Disclaimer

Only for the story does my character actually sing her entrance theme
Name: Lyra Heart
Age: 19
Eyes: Green
Hair: Pink
Height: 5,5
Weight: 110lbs
Nationality: Copenhagen, Denmark
Alignment: Face
Entrance Music: Turn it up by Lyra heart ft CFO$
[youtube]
[/youtube]
Wrestling Information
Strategy: Lyra use a mix of strikers and aerial attacks to weaken her opponent. But her strategy will chance when she becomes aroused
Style: Cruiserweight
Preferred Attacks:  Backhanded Chop , Slaps , Dropkick, Moonsault , Diving elbow drop , Leg drop , stinger splash.
Preferred Matches: Submission , Softcore , Humiliation , Hentai , Bed , Normal and Messy
Stats
Endurance: 2/5
Strength: 2/5
Defense: 3/5
Speed: 4/5
Technique: 2/5
Finishing Moves:
Sweet lullaby  (GTS )  
[youtube]
[/youtube]
final encore  (superkick with theatrics)  
[youtube]
[/youtube]
Final bow (stinkface with theatrics)  
[youtube]
[/youtube]
Appearance:
concert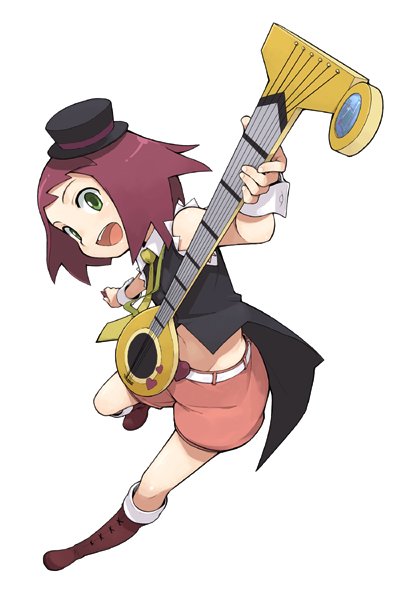 playing on a street corner
Beach fun  
At the beach
wrestler outfit   
Personality:
Lyra could best be described as kindhearted and fun-loving girl. She tries to bring as much happiness and joy to the world as she can though her music.
Unfortunately this meant that people used to think she was easy to decieve people like her first manager. This has caused Lyra not give second chances much, as she would be friendly with everyone. But try and trick her and you may end up losing her friendship
Past/History:
As a young girl Lyra discovered her love for music as she loved to hear her mom sing and soon both mom and daughter would spend their afternoons singing together.  Lyra's mom who wanted to nurture her daughter talent for music would buy the young girl a guitar for her 12th birthday ,
So after learning how to play the guitar Lyra would start playing it most of the time while trying to make up her own songs as she wanted to surprise her mom during the school performance when she was 15.  Lyra was nervous for most of the night as the music teacher thought she should go on last as she had to wait all night while her classmates preformed different things from a small play to a dance routine.
Finally the moment had arrived as Lyra was told to take the stage as the young girl struggled to control her nerves as she started the sing while playing her guitar. After Lyra was done with her performance she would open her eyes and look into the audience. She was surprised to see all the parents, and most importantly , her mom clapping while someone in the crowd had videotaped the whole event and decided to post parts of it online.
Within a month she got people showing up at her house trying to convince her to sign a contract with their firm. She decided on the wrong company it seemed. As while in the beginning everything was going alright but as time when on she was told to stop singing and just playback during her concerts and performances while never getting the chance to sing one of her own songs.
In the end her mom would just tell Lyra to follow her heart and just stop as she could not see her daughter being miserable while telling their were other companies and people who love the chance to work with her. Just a month after she turned 17 Lyra made the choice to stop working with her current company and decided to work with this new company who also worked with this wrestling organization called the LAW as most of their artists made the intros and theme songs for the wrestling companies ppv and shows.
After a while she wanted to try her hand at wrestling as the girls looked to be having a lot of fun. So after asking one of the wrestling coaches to train her as the person asked at first thought it was a joke until Lyra did everything she could to try and impress that person as she hoped to use the LAW to become a world class artist.
Fun Fact:
Relationships:
Friends:
Allies:
Rivals:
Enemies:
Crushes:
LAW Information
Number of matches:2
Wins: 0
Loses: 2
Draws: 0
Match History
2020
3 Lyra faces off against Candice Edison in an normal match.Ongoing
2019 and before
2 In her second match , Lyra would face off against The space girl Kindy.In an normal match which she would end up losing by pinfall.
1 Debut match against a more experience opponent in Himiko , and it a qualifier for the lightweight tournament. Let's hope this go well for the singer.Result defeat .