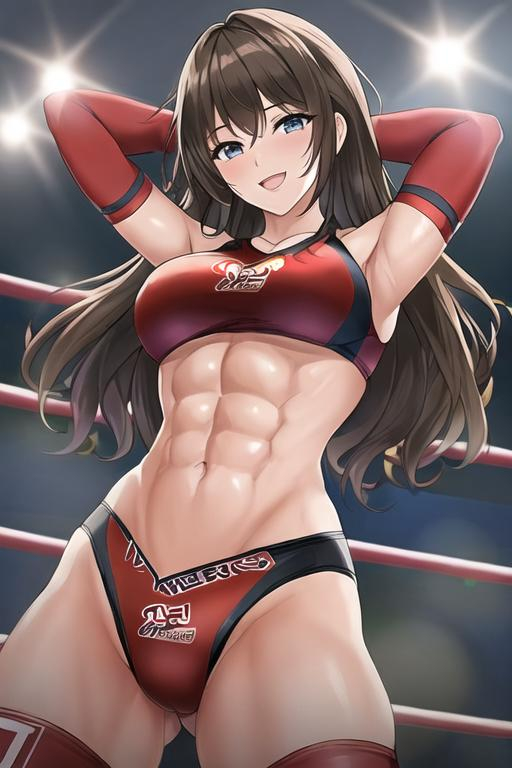 Info:
Hometown: Hamburg, Germany
Age: 19
Eye Color: Blue
Hair Color: Brown
Height: 5'11
Weight: 162 lbs.
Alignment: Tweener
Orientation: Bisexual
Personality: Lena is competitive and aggressive but not cruel. She enjoys working out and preparing for her next match when she isn't in the ring.
Favored Matches: Any.
Attitude towards hentai: "Sure, whatever, I mean its a challenge both mentally and physically like any other match and I always love a challenge"
Intro:
Backstory:
Lena was born into a wrestling family in Hamburg, Germany which is how she started, always pushing herself and her body since she started working out at an early age then doing the same with wrestling. Having come from a wrestling family wrestling came second nature to Lena. After wrestling in Japan in matches such as hentai and other normal matches for a year she received and offer to be signed to LAW and accepted.
Moves:
Lena is a bit of a power house using her muscles.
Signatures:
Muscle Buster
Spear
Bear Hug
Finisher:
Torture Rack
Hentai Finisher: Deutschland
-Lena rolls her opponent so there legs are over there head, Lena then sits on her opponent's legs and begins to finger her opponent.
Stats

:
Strength 9/10
Defense: 8/10
Speed: 6/10
Stamina: 8/10
Technique: 6/10
Endurance: 9/10
Hentai Stats:
Strength: 7/10
Technique: 5/10
Defense: 7/10
Libido: 7/10
Difficulty in matches:
Hentai: 6/10
Normal: 8/10
Submission: 7/10
Hardcore: 8/10
Friends and Foes
Friends:
Foes:
Allies:
Rivals: