Name: Bonnie Kruz
Nickname: Bunny Calamity
Age: 26
Height: 5'7
Weight: 157lbs
Hair: Pink
Eyes: Red
Nationality: American
Alignment: Tweener
Entrance music:
Spoiler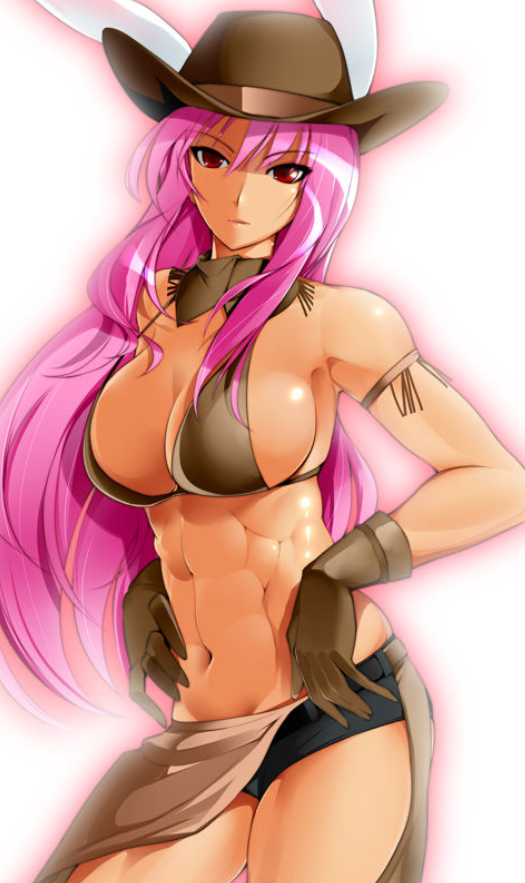 Style: Wrestling, Boxing, Submission, Striking, Kickboxing, Taekwondo, BJJ
Strategy: Overwhelm with strength speed and technique before she runs out of endurance.
Strengths / Weakness: Very good speed, strength and technique, but due to the oxygen required by her muscle mass, her fights need to finish fast or else she will start to lose steam and her breath.
Attack Preference: Enjoys the striking and kicking against same size or smaller size opponents, and strangling, submission techniques for larger opponents.
Favorite Finisher: Choke/Sleeper Hold
Match Preference: Open to any.
Stats:
Endurance: 3/5
Strength: 5/5
Speed: 5/5
Defense: 3/5
Technique: 4/5
Personality: Bonnie is a cold on the outer surface, but an introverted girl, that enjoys traditional cute girl things as well as having a plethera of unique hobbies within that , which is martial arts, sadism and body betterment.
Past/History: Due to her attractive look since young age, she learned martial arts so she can defend against perverts of society, but overtime grew to love martial arts and grew confident in her skills at it. And over more time at her mid 20s, she grew a sadistic nature due to her confidence in her ability, getting to LAW to fight and have fun.