Name: Natzuki Osaka
Age: 21
Hair Color: Red
Eye Color: Red
Height:4' 6"
Weight: 95lb
Endurance: 2/5
Strength: 2/5
Speed: 4/5
Defense: 2/5
Technique: 4/5
Sexual Endurance: 4/5
Entrance music:
Spoiler
Alignment: Heel
Nationality: American
Fighting Style: Striker,some high flying and throws.
appearance:
ring attire:
Spoiler
Alt costume:
Spoiler
normal attire:
Spoiler
Bikini:
Spoiler
Attitude when being humiliated:
Spoiler
Finishing move/s:
Market crash: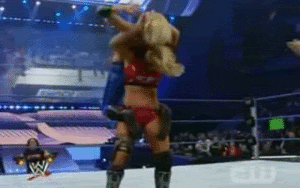 The come down:
Humiliation finisher:
Peek in the vault: (Forces her opponent's face into her butt rather than between her legs.)
Spoiler
Strategy: Open hard and try to pummel her opponent to be able to easily set up for throws and finishers.
Style: Jabs and Kicks and elbows along with neck breakers and DDT's.
Preferred Matches: Normal, Hardcore, Hentai, Humiliation.
Personality:Fiery and proud. Natsuki Always feels the need to push herself and isnt satisfied with anything but an absolute victory.
History:
Born in an orphanage she was adopted by a wealthy tech company owner and his wife.
They were killed tragically in a plane crash after 8 years of being in her life. With all of their money and possessions left to her.
After the years of grief she soon became bored with life. With nothing to hinder her drifting she drifted through life unimpeded by any financial restrictions.
Soon life had no meaning for her. Then she found hope. While working out at the gym she saw a man teaching karate. She was drawn to it and soon fighting became her passion. Money couldnt be thrown at an opponents in a match for her to win.
She had to earn it. She began to branch out and soon found her true love to be professional wrestling. It wasnt hard for her to get LAW's attention and after one phone call she was on the roster.