Name:Lynn Locke
Age: 20
Hair Color: Black
Eye Color: Violet
Height: 5' 3"
Weight: 109lb
Apperance:
Alt: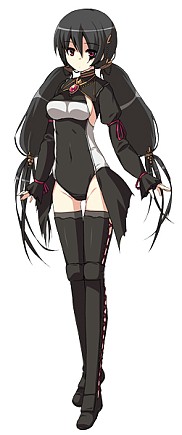 Hentai:
Spoiler
Entrance music:
Alignment: Heel
Nationality:Canada
General Stats:
Endurance: 4/5
Strength: 3/5
Speed: 4/5
Defense: 2/5
Technique: 5/5
Wrestling Stats:
Strikes: 2/5 – She knows how to hit whether or not it hurts is up for debate.
Submissions: 5/5 – Extremely confident in submission moves.
Powerhouse: 2/5 – Can manage most throws and slams as long as opponents size is close hers or smaller.
Aerials: 1/5 – Lynn likes to keep things as close to the ground as possible, and views aerials as a flashy risk not worth the pay off.
Counters: 5/5 – Can counter any move provided she has the strength.
Available for: Normal/Smother/Squash/Lewd/Humiliation/Mixed/
Fighting Style: Grappler
Finishing move/s:
Astro Scissors:
Paradise Lock:
The Educator:
Signature Moves:
Stink Face:
Bronco Buster:
Kinniku Buster:
Personality:
Gloomy and Dominant are words many would use to describe Lynn Locke. An interesting combination of a shy, melancholy facade over the cold calculating prowess that comes from being a dominatrix.
Record: 1-0-0
Win via smother K.O vs Phantomess-
viewtopic.php?f=16&t=4382
History:
Never knowing her father she was raised by her mother who made a living being a dominatrix. At an early age her mother took her under her wing and taught her everything she needed to know.
The power...
The pleasure of domination.
Lynn having no one pure parent to turn to grew addicted quickly, and seeing her skill and love for the work her mother trained her in the art of humiliation submissions.
After she had completed her training her mother then signed her up for a small sex fighting tournament in a local strip club.
She was a natural. Lynn also found that due to her small size and gloomy demeanor she was underestimated by opponents Who were either larger or more confident.
This taught her to not only learn how to fight those larger than her, but how to use their size and/or arrogance against them often doubling any humiliation and doubling her fun as well.
Much like how her style of wrestling used their weight and size against them. Arms and legs were levers to the young wrestler.
The longer the better.
Never being one for the standard of anything she crawled her way to LAW fighting in brothels and strip clubs until being approached and jumping at the opportunity to practice her craft of submissions and humiliation more professionally and in front of even more people. She couldnt refuse the offer when it was presented and she never looked back.