Match type: Hardcore no rules handicap.
Match Rules: No rules. Winner is decided when the winner chooses to be done.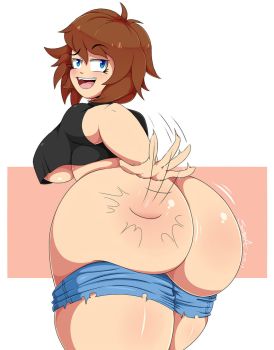 Sandy would be waiting backstage in her usual attire. Short jean booty shorts and a loose black crop top with nothing beneath. This was her night. Her debut night. She had it all set up by Laura who she was extremely grateful for. She made sure it was exactly what Sandy loved. A guaranteed victory against not one but two cute lightweights. There was nothing more that Sandy loved than turning girls into her playthings, mainly through brutal violence and sensual tactics. She would stand behind the curtains cracking her knuckles as she heard the start up of her music. She would shrug her shoulders a couple times to loosen up before strutting down to the ramp down towards the ring.
She would get a loud approving applaud from a crowd that knew her from her previous wrestling companies. She was known for her brutality and thats exactly what a lot of this crowd came out for. She would strut her way down to the ring making sure to sway her large wide hips to get the crowd more excited. She would even stop by one of her female fans and give them a long passionate kiss getting loud and responsive "Woos" from the crowd.
Once she was don'e showing off, She would make it to the ring, walking around it a few times before pulling her shorts down to give her bare ass a spank for the crowd. She would than go to her corner and begin stretching, doing push ups, basically warming up every way she knew how so she would be as loose and light on her feet for this perfect first match.