TV-worthy
Posts: 368
Joined: Sat Jul 29, 2017 4:51 pm
Has thanked: 7 times
Been thanked: 3 times
Match type: Hardcore no rules handicap.
Match Rules: No rules. Winner is decided when the winner chooses to be done.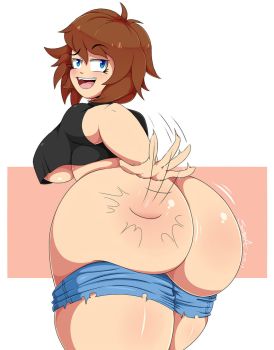 Sandy would be waiting backstage in her usual attire. Short jean booty shorts and a loose black crop top with nothing beneath. This was her night. Her debut night. She had it all set up by Laura who she was extremely grateful for. She made sure it was exactly what Sandy loved. A guaranteed victory against not one but two cute lightweights. There was nothing more that Sandy loved than turning girls into her playthings, mainly through brutal violence and sensual tactics. She would stand behind the curtains cracking her knuckles as she heard the start up of her music. She would shrug her shoulders a couple times to loosen up before strutting down to the ramp down towards the ring.
She would get a loud approving applaud from a crowd that knew her from her previous wrestling companies. She was known for her brutality and thats exactly what a lot of this crowd came out for. She would strut her way down to the ring making sure to sway her large wide hips to get the crowd more excited. She would even stop by one of her female fans and give them a long passionate kiss getting loud and responsive "Woos" from the crowd.
Once she was don'e showing off, She would make it to the ring, walking around it a few times before pulling her shorts down to give her bare ass a spank for the crowd. She would than go to her corner and begin stretching, doing push ups, basically warming up every way she knew how so she would be as loose and light on her feet for this perfect first match.
---
King of Darkness
Posts: 2006
Joined: Tue Jun 20, 2017 5:50 pm
Has thanked: 2 times
Been thanked: 22 times
Rebecca felt worried as did Misaka who looked at the shorter lightweight. "dont worry well just do our best girl but i don't think the odds are in our favor sadly..." Misaka said to Rebecca who nodded to her. "yeah we have to do our best tho.." Rebecca said back as they would make sure there outfits were right. Misaka would pat Rebeccas shoulders giving her a reasuring smiling. Rebecca would smile back as they used MIsakas theme to enter the ring. the two lightweights would come out and wave at the fans they had tho many of them were not looking forward to seeing this match.

The two girls would enter the ring and Rebecca looked at sandy gulping a little thinking how much bigger she was then the two of them. Misaka got in the ring as it was a no rules match so maybe the two girls could fight at the same time. Misaka and Rebecca were however not planing on fighting dirty but misaka thought that maybe they should as she looked at Sandy abit trembling.

"yyour going down fat so!" Misaka yelled as Rebecca yelled "y-yea!"the two girls were scared and not sure how bad this match was going to be.
---
TV-worthy
Posts: 368
Joined: Sat Jul 29, 2017 4:51 pm
Has thanked: 7 times
Been thanked: 3 times
Sandy would pause her warm up at the sound of a new song. A smile came on her face and it only grew as she watched the two adorable lightweights coming down to the ring. They looked extremely appetizing to Sandy as she licked her lips as she thought about all the things she would do to them. She would smirk at the two as she would watch both approach and enter. She wouldn't take her eyes off one of them unless they were going to look at the other one.

When they both entered the ring, Sandy would stand there with her hands on her hips. She would notice the trembling and couldn't help but snicker as she eyed both of them up and down. Sandy would hear Misaka call her a fatso and Rebecca back her up. She would only laugh before getting a more serious face. She would slowly walk up to them, really putting on a show of the size advantage she had. She literally had to look down at them. "That's not very nice of you Misaka... I'll be sure to teach you how to be a real bully tonight." She would say with malice in her voice as she would look towards Rebecca. "And you... I recognize you... Your the one who fucked the crap out of my little Lilly... I like you... But I'll be sure to repay the favor..." She would say as the evil grin returned to her face.

The bell would ring unexpectedly and Sandy would spring into action grabbing both girls by the hair and attempting to put them into a tight double bearhug with Rebecca closest to her. She would stare into Rebecca's eyes as she held a huge smile on her face. She would giggle as her large breasts mashed into Rebecca's while she squeezed both girls tight. The match had only begun and she had control over both of them for now at least.
---
King of Darkness
Posts: 2006
Joined: Tue Jun 20, 2017 5:50 pm
Has thanked: 2 times
Been thanked: 22 times
Misaka and rebecca would still tremble as the look up at the much bigger heavyweight. MIsaka gulp as the girl said she would teach her how to be a mean bully. "thanks but i don't need fat whore to teach much anything..."Misaka a Rebecca looked at Sandy in the eye as she mention LIlly. "what is you relationg wiht her....." Rebecca asked as she still had abit of confusing thing with the girl. Rebecca had no idea how she felt for Lilly since she thought she hated the girl but at the same time she felt sorry for Lilly.

Rebecca didn't knew what the girl and Lilly had between them but If this girl was the reason why Lily was such a weakling then Rebecca knew where the girl was coming from. the bell would ring and before MIsaka and Rebecca would get some distance the two were trapped in a powerful bear hug. The two girl's would scream out as they squirm in Sandy's grasp. "Rebecca looked at Sandy before spit at her face. " Let go of us!" Rebecca yelled as she tried to kick at Sandy's legs or belly hoping to get her and Misaka free.

Misaka would groan as she couldn't do much since she was behind Rebecca so she couldn't kick the bigger girl or spit at her like Rebecca did but knew that might have been a bad idea if Misaka knew what kind of girl this sandy person was.
---
TV-worthy
Posts: 368
Joined: Sat Jul 29, 2017 4:51 pm
Has thanked: 7 times
Been thanked: 3 times
Sandy would moan as she felt the cute girls in her arms being crushed and the screams were only motivating her more. She would continue looking at Rebecca who had the audacity to spit in her face and attempt kicking her. She would gasp as the spit hit her face, only to smile an almost crazy, unstable smile. "I really like you! You've got fight in you!" She would say as she would lick the spit from her lips that Rebecca had produced. Sandy would than tighten the hug as hard as she could pulling Rebecca in for a tight and sloppy kiss.

Sandy would shake off Rebecca's kicks as they weren't very effective. She would continue making out with her toy as she would walk around the ring squeezing the girls, showing off her strength to the crowd as they actually cheered on the destruction. After a couple minutes, Sandy would get a sinister idea. she would quickly hoist both girls up only to preform a brutal atomic drop, smashing both girls crotches into her knee.

The crowd would let out a loud cheer as the move landed, Sandy would let the girls flop to the ring floor as she stood up flexing and playing it off to the crowd. She would than lay both girls head to head before jumping up to preform a brutal leg drop with one leg across each of their necks and chests. Her thighs were so big that they could actually crush both. She would than reach to each side and grab the girls legs to roll them up for a pin. The crowd would begin the count but only get to one as Sandy quickly released both. She came here to give the crowd one of her classic squash matches and thats what she was going to do.

Sandy would than roll Misaka out of the ring. "Don't you worry... We have all night." She would say as she would give her a quick kiss on the lips before returning to Rebecca. She would stand above Rebecca's stomach with a foot on each side of her body. She would than jump up to deliver a brutal butt drop with all of her 220 pounds behind it. The ring would shake and vibrate violently and sandy would cackle. She would bounce a few times before leaning forward and on top of Rebecca so her large breasts mushroomed against Rebecca's own impressive pair. She would slowly brush the hair out of Rebecca's face before spitting in her face as a form of payback from earlier. "What goes around comes around!" She would shout as she would lean in and give her another long sloppy kiss. She would wrap her arms and legs around Rebecca's little body and squeeze her, starting to roll around the ring, back and forth from side to side, completely devouring the poor girl and the match had only started.
---
King of Darkness
Posts: 2006
Joined: Tue Jun 20, 2017 5:50 pm
Has thanked: 2 times
Been thanked: 22 times
Rebecca saw Sandy's wild and crazy smile and eyes. Rebecca nearly pissed her self but had to Remain brave as she didn't want to give the bigger girl the satisfaction of her being scared even though she was terrified. Just then Sandy would tighten her hug on Rebecca and Misaka saying how she really liked Rebecca. " Well.. i dont ....like you your a fat...ugly whore!" Rebecca said befor getting forced into a sloppy and wet kissed.

Rebecca cried to keep her self form kissing sandy back trying to deny the girl any kind of feelings. after a few minutes Sandy would drop the girl's onto her knee causing them to scream in pain as there pussies made contact with that knee and would fall off of the sandy holding there crotch's. Rebecca and misaka's fans tried to cheer them on but they were drowned out by the the fans wanting to see more of sandy wrecking Rebecca and misaka.

the girls got pinned by Sandy but it was only a ruse to get the crowd rile up more. Rebecca growled as she got up onto her knees holding her crotch. "ugh you whore i...wont lose to you!" Rebecca said as she tried to kick off of the ground and grab Sandy's waist trying ot push the girl onto her back but all she was doing was pushing against a brick wall as she couldn't even make Sandy take a step back.
---
TV-worthy
Posts: 368
Joined: Sat Jul 29, 2017 4:51 pm
Has thanked: 7 times
Been thanked: 3 times
Sandy would chuckle as Rebecca got up. She was surprised as well but it would only make it more fun to dismantle her in every way. "Your a fighter huh? That's cute." Sandy would giggle as Rebecca managed to not even move sandy an inch.

Sandy would be standing there with her hands on her hips for a couple seconds, even doing a yawning sign to the crowd to show off. "Alright... that's enough for now." Sandy would sigh as she would reach down to grab Rebecca by the waist and easily lift her up and over for a brutal belly to belly suplex.

The ring would shake wildly as the crowd erupted but sandy wouldn't let go. Instead, she would decide to show off, dragging Rebecca up and performing another suplex...and another... and another. The crowd would begin to count with each slam and crash into the ring as sandy chuckled with every suplex. She was thoroughly enjoying herself.
---
King of Darkness
Posts: 2006
Joined: Tue Jun 20, 2017 5:50 pm
Has thanked: 2 times
Been thanked: 22 times
"yes im a fighter...and i learn form Aoi to never give up!" Rebecca said as she tired to push the girl back but wasn't even to push her back at all. she was just making cute grunts and groaned. Just then Sandy would wrap her arms around Rebecca's waist and then drop her down in a belly ot belly suplex. "Ugh!' Rebecca cried out.

she would feel the pain form the suplex but the bigger girl wasn't done yet as she would continue the suplex going for as many times as she so wanted. She would then whine in pain as she lay on the ground her back and neck hurting alot. misaka would get up onto her feet as she looked at Sandy witnessing the girl slamming the small girl around like a rag doll. Misaka would get behind Sand and jump on her back. "gotcha!" she said and would punched at the girl's head hoping to daze her for abit.
---
Random Topics

Replies
Views

Last post