Basic Info
:
Nationality: Japanese
Height: 4'10"
Weight: 118 lbs
Alignment: Face
Hair: Brown
Eye Color: Brown
Age: 19
Entrance Music:
I May Fall
Stats
:
Slams/Power/Strength: 3/5
Strikes: 4/5
Submissions: 3/5
Aerials: 3/5
Counters: 2/5
Stamina: 4/5
Preferred Attacks/Style
: Mostly a Brawler and often defaults to using strikes, punches, kicks. But she can use other maneuvers such as basic or familiar slams and holds as well.
Appearance
: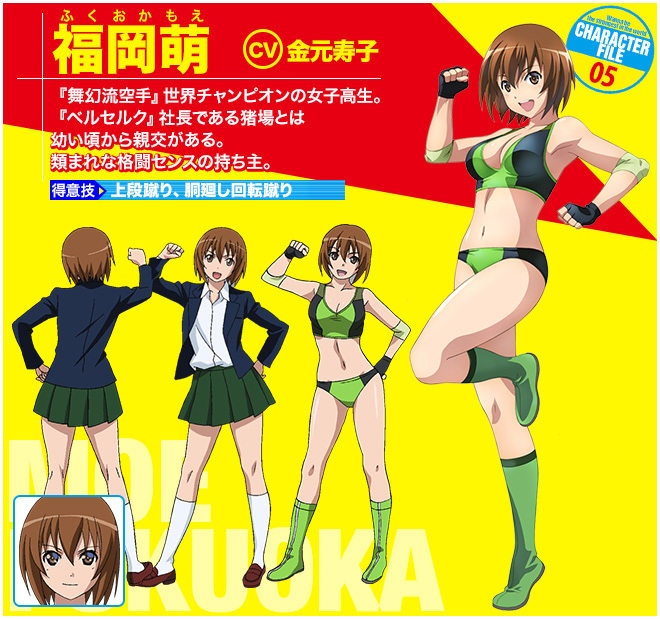 Background
:
Moe has trained in a wrestling gym for the better part of a year and looks to make her debut in LAW. Her strategy revolves around trying to make use her innate aptitude for striking hard and fast. Originally, she had intended to pursue a career in martial arts. She had excelled in judo, kickboxing, and other such school related clubs in tournaments. But one day, she had stumbled upon a wrestling gym in her neighborhood in Kyoto. She quickly became friends with many of the gym regulars and was impressed with their discipline and work ethic. After learning the ins and outs of the business, she decided that she needed to try her hand at being a serious competitor, and wanted to make a name for herself at a nearby wrestling promotion: LAW
Personality
:
Moe is an enthusiastic go-getter. She sees what she wants and goes for it with gusto. This trait, combined with her tendency to be honest and speak her mind, has garnered her friends as well as foes. Her inexperience and young age sometimes lead her to be rash and act on impulse, but coupled with that is passion and energy to better herself and become a genuine pro wrestler. She came to prove herself and she'll do exactly that, no matter who she feels she has to stand up to or support to do what she feels makes sense and is right.
Finishing Moves
:
-Superkick
-Busaiku Knee
-Octopus Hold
Relationships
Friends:
Rivals:
Enemies: