Name: Megumi Mutoh
Alias: Genius Mutoh
Sex: Female
Age: 26
Eyes: Blue
Hair: Brunette
Height: 5'5"
Weight: 138 lbs
Nationality: Japanese
Alignment: Face (Lawful Good/Lawful Neutral)
Entrance music:
Golden Nocturne
Wrestling Information
Strategy: A well-balanced wrestler who leans towards strikes and aerial maneuvers.
Style: Pro Wrestling.
Type: Puroresu.
Preferred Attacks: Megumi uses a mixture of power moves, holds, strikes and aerial maneuvers, though she definitely leans heavily towards aerial moves.
Preferred Matches: Any
Endurance: ★★★ - Her experience back in Wrestle Angels has toughen her a lot.
Strength: ★★★★ - She is very strong, perhaps even stronger than she was before.
Speed: ★★★★★ - Megumi's greatest asset, capable of moving fast and agile in the ring.
Defense: ★★★ - Can take quite a lot of damage and still capable of going after that.
Technique: ★★★★★ - A prodigy of wrestling, very skilled.
Favored moves:
Boston Crab
Camel Clutch
Cradle Piledriver
Cross Armbreaker
Death Valley Driver
Dragon Screw
Dragon Suplex
Dropkick
Elbow Drop
Figure Four Leglock
Figure Four Headlock
Frankensteiner
Handspring Back Elbow
Hip Attack
Megumi Special (running twisting elbow drop)
Rib Breaker
Rope Hung Snap Swinging Neckbreaker
Rolling Savate Kick
Sitout Powerbomb
Splash
Springboard Plancha
STF
Triangle Choke
Finishing moves:
Shining Wizard
Moonsault
Muta Lock (inverted Indian deathlock facelock)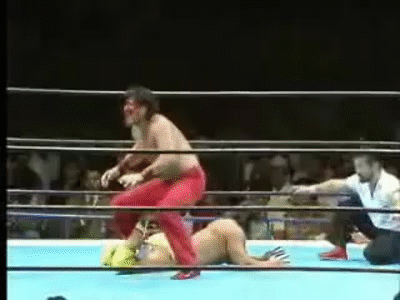 Characteristics
Visual Appearance:
Megumi is a young woman with average height, blue eyed and has long brunette hair. And in the ring, she usually wears either a red mini-dress decorated with belts or a red leotard. The most recognizable thing that Megumi has is her ever omnipresent hair ribbon.
Personality:
It is hard to describe what Megumi Mutoh is like. She is amiable and personable enough, with many idol qualities, but at her core, Megumi is a loner. While she is not against contact with other people, she also doesn't actively seek them. While she is in no way friendless, she doesn't think that she needs to have many friends, preferring to keep it to herself. Still, to those she considers as her friends, she can be quite a tease, making fun of them sometimes.
Megumi also has quite a sharp tongue and is pretty sarcastic. While she isn't actively malicious with her sarcasm, this is probably one of the reasons why she doesn't have many friends in the first place. Still, due to her being in Wrestle Angels before, she considers other wrestlers in the wrestling promotions to be co-workers and acquaintances at best.
Past/History:
Reluctantly dragged along by her friend to a shopping trip at Tokyo, Megumi wandered alone and met her future best friend, Chigusa Yuuki, who went to Wrestle Angels headquarters where rookie tryouts were held. Curious, Megumi ended up participating in the tryouts alongside Chigusa despite virtually having zero knowledge in wrestling (what she knew about wrestling at that time was two people wearing funny costumes flipping each other in boxing ring). Still, it turned out that Megumi had a natural talent as a wrestler and passed with flying colors, becoming an official wrestler in Wrestle Angels alongside Chigusa.
Megumi would wrestle in Wrestle Angels for years, winning titles and accomplishing many things. When her contract finally expired, Megumi decided to not renew the contract and instead go to a different wrestling promotion to widen her horizon. Due to her accomplishments, Megumi herself was approached by the representatives of LAW themselves, offering her a contract to wrestle in LAW. Seeing the prospect of wrestling in a league bigger than Wrestle Angels, Megumi agreed, looking to make a name for herself in this brand new wrestling promotion.
Wrestling Attire: (see pics)
Default Wrestling Outfit
Show
Secondary Wrestling Outfit
Show
With Best Friend Chigusa
Show
Fun Facts:
-It's uncertain whether her friendship with Chigusa Yuuki is merely platonic or romantic.
-Has an infamous incident back in Wrestle Angel during her match with Chigusa, where she got herself an obvious bump on her head after a botched brainbuster but in the end, she won the match. She didn't blame Chigusa for the botch, though.
-Has a merchandise line which has become another source of income for her.
LAW Information
Record: 8-2-1
Wins:
-Defeated Hikaru Sawazaki via pinfall
-Defeated Lauren Fredericks via pinfall
-Defeated Cecilia Lombard via pinfall
-Defeated Ducky Williams via knockout (LWS 2018)
-Defeated Rachel Stanley via ring-out
-Defeated Wings of Wrestling via pinfall - Valkyrie Troupe
-Defeated The Dominion via pinfall - Valkyrie Troupe
-Defeated Jess Mcleary via pinfall (Tokyo Brawl)
Losses:
-Defeated by Tina Armstrong via pinfall in Middleweight Title Match (LAW of the Jungle 2018)
-Defeated by Sarah Luther via knockout (LWS 2018)
Draws:
-Draw with Karen Meadows via double countout
Championships/Accomplishments:
Friends:
-Chigusa Yuuki
Allies:
-Chigusa Yuuki
Rivals:
-Chigusa Yuuki
Enemies:
-None
Crushes:
-None