Jess Mcleary
"I'm gonna hog tie, mincemeat pie, and down home fry yah!"
Born into a life of opulence and lavishness, Jess yearned for the chance to break from the mundane and experience what life truly had to offer. While she toiled and worked away countless days on her families farm, wrangled any wayward livestock and even practiced bull wrestling whenever boredom began to engulf her, she caught wind of a local wrestling tournament her county was holding. Having watched multiple, live events herself she decided to toss herself into the ring and see what she was capable of. Utilizing her alien strength and unnatural size, she coasted into the winner's circle before she even realized it. Deciding that wrestling was the life for her, she devoted every waking moment to honing her skills and developing her own, personalized grappling style- "Farm freehand" which is a rudimentary spinoff of both pankration and catch wrestling. Unfortunately, as she continued to make a name for herself as an established wrestler, it seemed as though her competition was catching break after break- Title shots going to those who don't deserve it, new blood being pushed into the stratosphere while she remained overlooked and under appreciated. Something ignited deep within Jess's soul, and she soon began resenting the crowd that once adored her, eventually dawning the persona of a woman scorned. Now, she wrestles not for the entertainment aspect of it, but to prove that she deserves to bask in the spotlight.
Real Name:
Jess Mcleary.
Nicknames: "The Ginger Titan" "The Southern Stinger" "The Barnyard Bruiser."
Age:
26
Eyes: Sunset yellow
Hair: Crimson red
Height: 6'0
Weight: 205lbs
Nationality: Texan
Alignment: Heel
Voice-
Spoiler
Entrance Music:
"Ain't no rest for the wicked" by cage the elephant.
Appearance
Svelte with noticeable, muscular lumps on her arms. She's not a gargantuan being, but possesses an imposing figure.
Personality
Pure confidence with a smidgen of haughtiness present, Jess refuses to give her adversaries even an inch within the ring, and will resort to using her god-given "Assets" if it provides her with an opportunity to win, while simultaneously reminding whomever she's facing that they are nowhere near her level of in-ring ability.
Wrestling Information
Strategy:
Bullrushing and overwhelming her adversaries immediately out of the gate, or locking horns and standing her ground; either way, Jess will always try to prevail over her opponent or go down in a blaze of glory otherwise.
Style:
A mixture of both pankration and catch wrestling that she calls "Farm Freehand"
Type:
Grappling with just a pinch of submissions, Jess is a swiss army knife of diverse moves.
Preferred Attacks:
Suplex, bodyslams, backbreakers, and anything involving her opponents leaving the ground.
Preferred Matches:
Honest fights, without any subterfuge or duplicity. She was raised as a country gal, so integrity in the ring is paramount to her.
Attitude To Hentai:
"If ya'll catch me in tha right mood, I reckon I'd be willin tah give mah adorin fans a show."
Physical Statistics:
Relying on her indomitable will to overcome any obstacle, this southern titan will surprise any and all that underestimate her power and skill.
General Statistics
Tall enough to be imposing, strong enough to be dominant, and gorgeous enough to be a model.
Endurance ★★★★ - Between her personal fortitude and southern tenacity, this resilient ginger refuses to accept losing as a possible outcome for her matches.
Strength ★★★★ - Having spent most of her childhood grounding cattle, Jess's body is a toned piece of meat that can go toe to toe with even the most hardened gym rat.
Speed ★★★ - Quick on her feet, the crimson titan might be considered fast by most, but her quickness isn't something she boasts about.
Defence ★★★ - While not focusing too much on protecting herself, given that her primary objective is offensive tactics, she isn't afraid to defend herself if she's in a dire position.
Technique ★★★★ - While not being an official style, "Farm Freehand" has served her well when the occasional bull strays too far from its pen.
Wrestling Statistics
Strikes ★★★- Due to her natural size and muscular physique, Jess will unleash a barrage of strikes to tenderize her foes if throwing is no longer a feasible option.
Submissions ★★ - While not opposed to the idea of hearing the blissful noise of her enemies screaming for mercy, Jess prefers to toss them around like ragdolls instead.
Powerhouse ★★★★★ - Training with wild steer in the brutal summers of south Texas has enhanced Jess's natural strength ten fold.
Aerials ★★ - She isn't the closest friend to gravity, but knows a handful of basic moves while not on the ground.
Counters ★★ - Lacking the desire to wait and gauge her opponent, Jess prefers taking the initiative rather than reversing her rival's attacks.
Match ending moves
"The Cattle Crasher" A modified bronco buster, where she sensually gyrates her southern region against her foe's facial region until they either beg for mercy or go completely limp.
Signature Moves
"The Barnyard Bomb" A modified sitdown powerbomb, where Jess squeezes her victim's breasts to remind them of her dominance.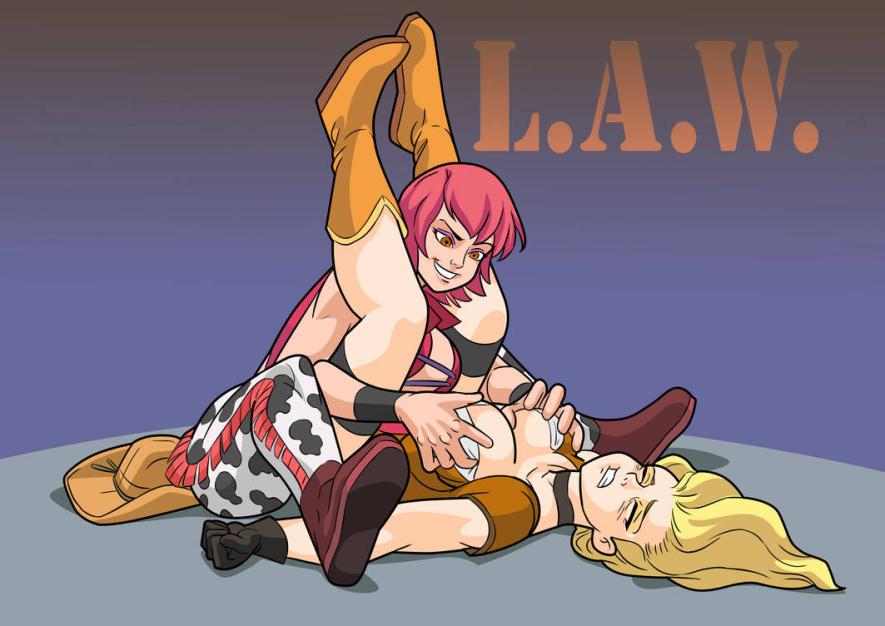 Accomplishments:
She was tag champs with Kieda on an entirely different circuit.
Relationships
Nothing...yet, but she's had her eye on someone for quite some time.<3
Friends:
Allies: She relies only on herself for total victory.
Rivals: Astrid Ostberg.
Enemies: Astrid Ostberg./b]

Crushes:
Nothing is set in stone yet, but who knows~


Record: 13/9/0
Victory against Mio via submission.
Victory against Jennifer Jane via hogtie.
Victory against Astrid via Texas Twister.
Victory against Ducky via Panties being stuffed in her mouth.
Victory against Hailey/Liz via double clothesline.
Victory against Bella via Verbal Submission.
Victory against Anna via Pin.
Victory against Lari via Pinfall.
Victory against Jamie/Arianne via pinfall.
Victory against Kiwi via powerbomb.
Victory against Claire via powerbomb.
Victory against Aine via powerbomb.

Loss vs Noble Rose via submission.
Loss vs Haruka Le Roux via pinfall.
Loss vs Alice via verbal admission.
Loss vs Rose via submission.
Loss vs Valencia via submission
Loss vs Chigusa via pinfall.
Loss vs Aliana via pinfall.
Loss vs Izwack via pinfall.
Loss vs Astrid via pinfall.



Attire A cowskin outfit, reflecting her southern pride and honor.
Jess showing Bella who's in charge~
Mille, giving Jess a run for her money.
Never one to shy away from locking horns, Jess shows Rose what she's got in the center of the ring
Jess meets Molly in the ring for the first time
And gives her a match she'll never forget
Dixie Never stood a chance
While towering and intimidating, Jess can't win them all, as seen here against Haruka
She might be big, blonde and busty, but Jess can take anyone down!
Jess taking down two birds with one clothesline~
Anna learns never to trifle with a Texan~
Jess ass-entuating her win over Lari~
She Kare's so much~
Jess almost had her...
...Until she didn't.
Jess going for a powerbomb, and getting a surprise in return!
Every Rose has its thorns~
The strongest cloverleaf around~
Just a little quarrel among friends
Jess claiming Kiwi for herself. <3
Jess and Bianca resolving some issues~
Jess, unfazed by Astrid, her eternal foe~
T is for Texas~
Jess never really loses~
Jess vs Sweet Pea~
Jess lost the match, but gained a strong ally~