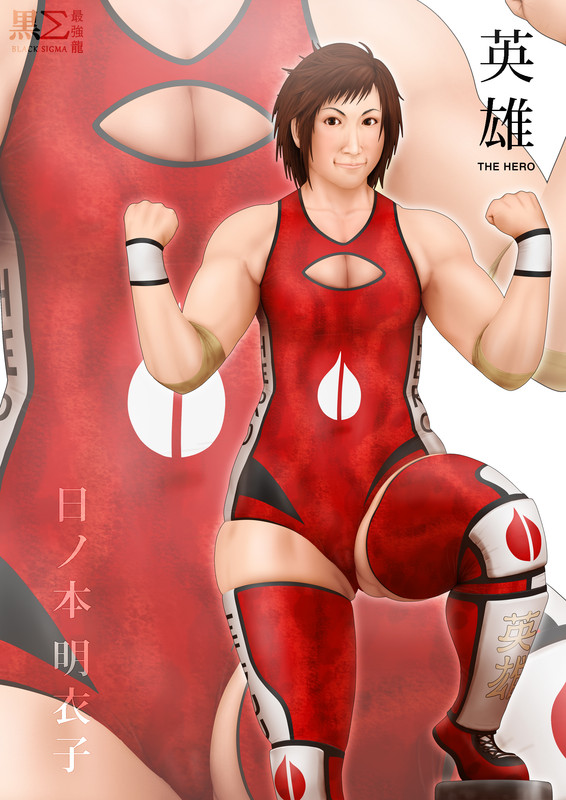 Birth Name:
Meiko Hinomoto
Ring Name
The Hero (Eiyuu)
New Blood
Age:
34
Hair colour:
Dark brown
Eye colour:
Brown
Height:
5'6 (168cm)
Weight:
158lbs (72kg)
Born:
Kawasaki, Kanagawa, Japan
Billed From:
Kawasaki, Japan
Entrance music:
Spoiler
Alignment:
Babyface
Nationality:
Japanese
Fighting Style:
All rounder
Nicknames
The Hero (Eiyuu)
Overdrive
Joshi Ace
Physical stats
Physical stats
Power/ Strength ★★★★★★★☆☆☆
Meiko has above average strength, but would rather use leverage from her skills. A call back to her days as a lighter weight competitor
Speed/ Agility ★★★★★★★☆☆☆
Meiko is fast and agile, although not as much as in her days at a lighter weight. Still she has retained quite a lot of her ability and uses her agility to escape bad situations
Stamina/ Endurance ★★★★★★★★★★
Meiko has incredible stamina and endurance. Despite gaining muscle she has retained her endurance due to the frequency of being in big matches. As a babyface she draws even more resilience from her adoring fans, which causes a feedback loop as she fires up.
Technique/ Skill ★★★★★★★★★☆
Meiko had felt inadequate in her early career and therefore worked extra hard on her technique more than anything. Although not perfect her knowledge and hard work, as well as her martial arts background has given her great discipline and ability
Durability/ Defence ★★★★★★☆☆☆☆
Being a strong babyface who feeds off the cheers of the crowd, Meiko is often caught pandering to the crowd. Despite her technical ability and studious nature on opponents can be to a fault, being outwitted by cunning. While the crowd can energize her, the adrenaline gained can fall off from being countered and lead to her downfall.
Wrestling Style
Meiko is a charismatic crowd pleaser, usually getting the crowd on her side, especially as an underdog against bigger foreign opponents. Initially a wrestling at a lighter weight Meiko has retained some of her speed and athleticism, but added power to her game. An all-rounder in many regards, but with a weakness against the unpredictability of brawlers. Meiko tries to avoid direct engagement, favouring to use her technique to get around opponents and her skills to counter enemy offence and avoid damage. Her endurance also gives her an advantage when in a bind, allowing her to recover quickly and with the crowd rallying behind her she manages to re-energise.
Finishing moves
Darkside Overdriver
(Inverted Death Valley Bomb/ Burning Hammer) Ultimate finisher adopted from her cousin
Spoiler
Overdriver
(Leg hook pin Death Valley Bomb) Meiko's usual go to finisher
Spoiler
Spoiler
Ultimate Defeat
(Cross-legged cradle pin) For more resilient opponents
Spoiler
Shining Hero
(Axe kick using kneeling opponent's knee for leverage) Reserved for quick wins and larger opponents
Spoiler
Signature moves
Hero Special (Arm hook suplex variations into cross armbreaker) (A signature move that can often lead to a tapout)
Eiyuu Driver (Inverted suplex into double knee backbreaker)
Eiyuu Kick (Pelé Kick)
Meiko Kick (Superkick)
Flying heel kick
Blood Drop (Diving DDT)
Lariatooooo! (Axe bomber lariat)
Moonsault
Is it a bird, is it a plane (Diving crossbody or splash)
Shoot kicks
Missile dropkick
European uppercut
Running forearm smash (sometimes to kneeling opponent)
Northern lights suplex
DDT
Superplex (sometimes with double underhooks)
Arm trap crossface
Kimura lock
Fujiwara armbar
Slingblade
Dragon skrew
Lungblower
Background
Hinomoto was raised learning different forms of martial arts, but gravitated to wrestling. She has a rival in her cousin Reiko Satomura, who from childhood would try to get the better of Meiko, however this spurred on Meiko to have a no quit attitude, admiring her cousin's natural ability.
Meiko joined a promotion that was stagnant as a result of it's reliance on the older established talent. Due to Meiko's natural charisma and good looks she was pushed early on in her career with the monicker New Blood, but to little success because of her inexperience and burnout from the media she attracted. After taking a break from the business to persue a roll as a TV personality she made her return and shot to the top ranks of her promotion. With a dominant foreign wrestler as the top champ, Meiko's victory caught the attention of many media outlets including some in the States. This attracted more eyes to the promotion and made Meiko The Hero.
Meiko is married to a pro wrestler and has a son, who has been kept out of the media's attention. She also manages a wrestling school and gym and is a avid reader of American comic books.
Alternative costumes
Spoiler
Spoiler