Match type:
Standard Tag Team
Winning condition:
Pinfall, submission or KO
Tonight was going to be the first test for the two younger members of the newly founded faction ' The Dominion'. Jacob and Derek were going up against Megumi and Chigusa, the Valkyrie Troupe who were more experienced than their male counter-parts but both Jacob and Derek were ready to put the Dominion on the map by beating the tag team duo of Megumi and Chigusa.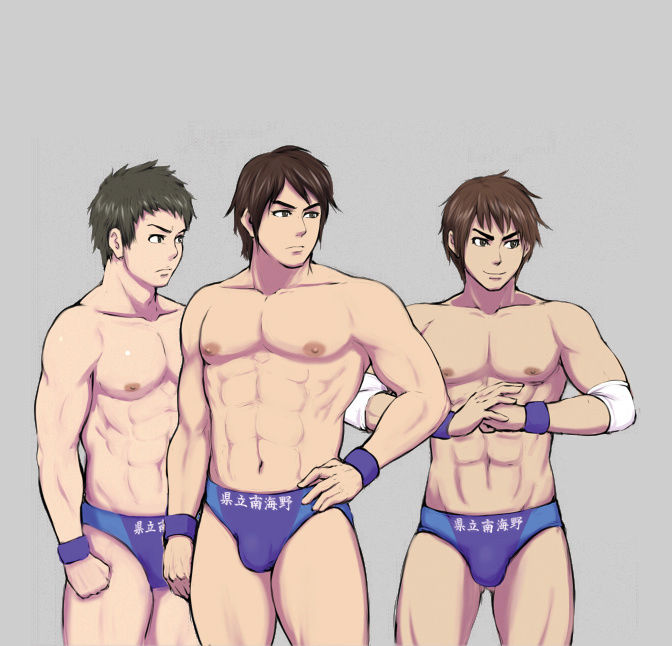 (Derek=left, Jacob= right)
The two changed into their matching attire, blue wrestling briefs with white boots. Jacob was a bit more excited than Derek, who was more focused and worried about how their match would go. The younger Derek was more interested in testing his skills against Chigusa, who he hoped that he could get a chance to wrestle against one on one someday.
"Alright Derek, you ready to go out and win this?"
Jacob said in an excited tone, slapping his partners shoulders from behind.
"Oww...yeah, I'm ready....I guess"
he said as he adjusted his briefs before the two went to the gorilla position from their locker room.
The Dominion's theme cued and the pair would walk down the ring ramp together. Derek walked up the steel steps while Jacob hopped up on the ring apron and made the two made their way inside. Both of them climbed the top turnbuckle and raised their hands up high above their heads to show off to the crowd before dropping down and standing in the middle of the ring, waiting for the Valkyrie's to arrive. The two would start to discuss a gameplan with each other, thinking about a strategy to overcome their opponents.