Lexington "Sexy Lexy" Dolph
"Mind over matter."
Profile: A renegade from the dystopian planet of Pandora,

Lex

managed to find solace and shelter within the walls of The Gem's Haven. After sweet talking the owner, Jess, into letting him stay with her for an indefinite period of time, in exchange for his services as both an inventor and all around handyman, it appears as though he has no intentions on leaving anytime soon. Incredibly pretentious due to his genius I.Q.,

Lex

is never afraid to remind anyone and everyone that he's the superior mind.
Real Name:
Lexington Doplh
Nicknames:
"Sexy Lexy" "Big brain"
Age:
27
Eyes:
Crimson
Hair:
White
Height:
5'8
Weight:
135lbs
Nationality:
American
Alignment:
Heel
Entrance Music:
"Don't you wish you were me" by Fozzy
Appearance
While being in above average shape, he has nothing special to speak of otherwise. Outside of his unusually snow white hair, his only outstanding characteristic would be his condescending attitude and snarky retorts.
Personality
While not always saying the appropriate thing in the heat of the moment, this precocious inventor manages to have a rather calm demeanor outside of the ropes. The sad part about it, however, is that most people are unaware of this fact.
Wrestling Information
Strategy:
While more proficient in the realm of pugilism,
Lex
doesn't slack in the wrestling ring; Jess has taught him the basic fundamentals of fighting, but he is woefully underdeveloped when compared to the more deft veterans.
Style:
He relies on powerful blows and sleek escape moves to keep his opponents on their toes.
Type:
Fleet-footed boxing is more his forte, but he utilizes his slightly muscular frame to chase down his foes.
Preferred Attacks:
Uppercuts to the jaw, hooks to the sternum and crosses to the face.
Preferred Matches:
No holds barred. He likes to use any and every advantage he can to seize victory.
Attitude To Hentai:
"As if any of you harlots are worthy of my body."
Physical Statistics
Don't let his lanky body fool you; underneath his skinny complexion is a reservoir of muscle.
General Statistics
He'd much rather be inventing gizmos and gadgets than fighting, but he has no qualms with putting his opponents in their place if need be.
Endurance
★ ★ ★ ★ - Combining his boxing knowledge with Jess's extensive training has given
Lex
an annoyingly high amount of stamina.
Strength
★★ ★ - Just above the threshold of average, don't expect anything outstanding from him in this department.
Speed
★★- Having never trained his quickness,
Lex
suffers from an average rate of movement.
Defense
★ ★ ★ - Using his turtling technique while brawling, he isn't afraid to box himself up to prevent any extensive damage to himself.
Technique
★★ ★ ★- What he lacks in the wrestling department, he easily makes up for with his pugilistic aptitude.
Wrestling Statistics
Strikes
★★ ★ ★ ★ - While not impressively powerful, his shots always hit their mark with frightening accuracy.
Submissions
★- "Uh...no."
Powerhouse
★★ ★ - Above average strength, but nothing too spectacular.
Aerials
★- "Again, no."
Counters
★★ ★ ★ - Always trapping his opponents by feigning injury,
Lex
won't hesitate to prey upon their sympathy whenever possible.
Match Ending Moves
"The Genius Smash" A rolling, right cross that connects with the mandible of his foe.
Signature Moves
"High I.Q. (Injury Quotient)" A modifed version of a body slam, where
Lex
drives them into the ground at a hastened speed.
Accomplishments:
Nothing impressive, outside of surviving in a household of three, gargantuan women.
Relationships
Friends:
Jess
Allies:
None...yet.
Rivals:
None...yet.
Enemies:
Most women.
Crushes:
None.
Record
3/3/0
Victory over Melody via knockout.
Victory over Dave via pinfall.
Victory over Tomoya via knockdown.
Loss to Melody via finisher.
Loss to Mariza via submission.
Loss to Sandy via pinfall.
Attire
Usually clad in his bronze and golden trunks, boots and boxing gloves.
Lex

and Melody have a love/hate relationship~
Show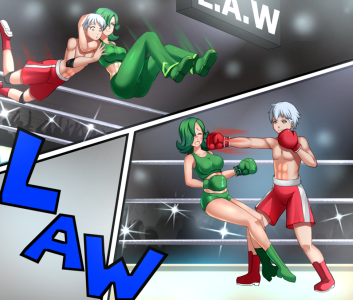 He just couldn't handle Mariza.
Show
But he can handle himself sometimes
Show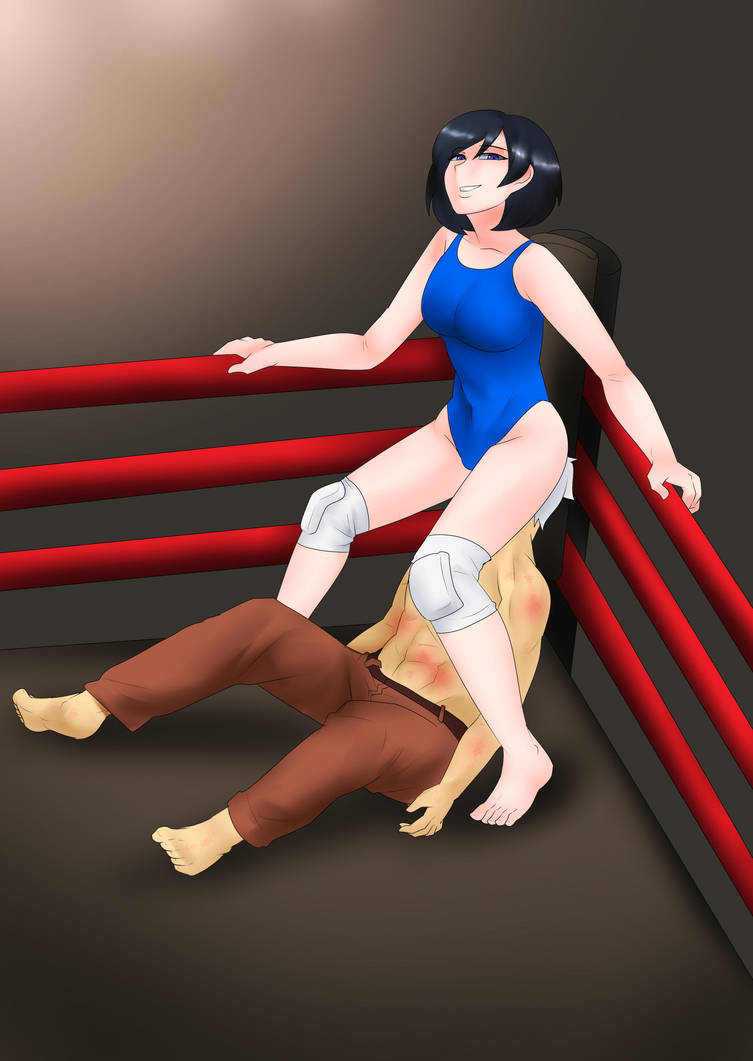 Lex

proving that he's the alpha male.
Show
Tomoya should have kept her mouth shut~
Show