So almost all my characters do softcore stuff if requested. Smother matches, oil matches, etc.
Characters that will do more explicit stuff (penetrative stuff or matches with a hentai stipulation) include: Rosie, Sienna, Jem, Tracy, Sandy, and Isamar
Aurora Estrella
Alignment:
Face
Style:
All Around/Speedy
Attitude:
Quirky yet personable. Aurora ius on a journey of self-discovery and aims to use her wrestling character to flesh out her irl character.
Rosie Soto
Alignment:
Heel
Style:
Submission/Aerialist
Attitude:
Wants to win by any means almost necessary. Will actively engage in facades to exploit others to find a means to her goals.
Samantha "Lucky" Roberts
Alignment:
Face
Style:
Aerialist/Technical
Attitude:
Upbeat and passionate about people being who they are and chasing their dreams, no matter what obstacles or mishaps they encounter.
Moe Fukouka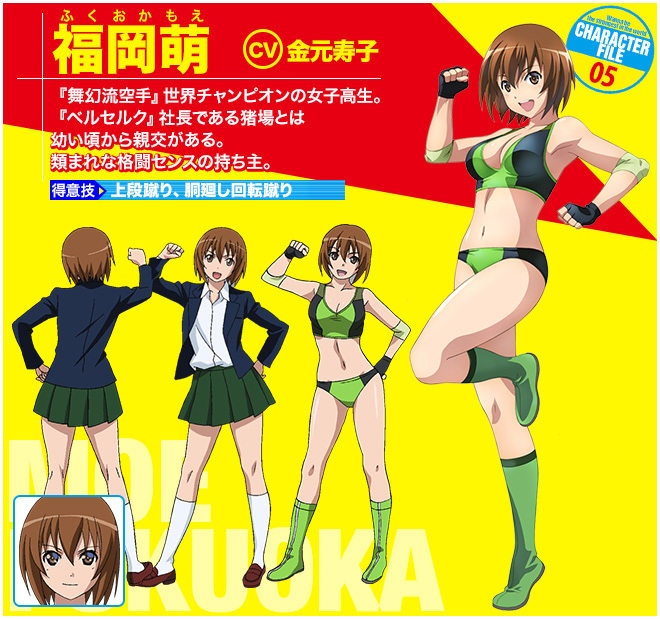 Alignment:
Face
Style:
All Around
Attitude:
Diligent and honorable. She aims to build herself up from rookie to rising star, and eventually, superstar!
Sumiko
Alignment:
Face
Style:
All-Around, but prefers power moves
Attitude:
Never backs down and always strives to do her best with the expectation that opponents will do the same
Sienna Smith
Alignment:
Tweener
Style:
Jill of All Trades, Master of None
Attitude:
Sienna will often do as she sees fit depending on her situation. She can be vain and superficial at times. She will often prioritize having a good time over being responsible.
Jem Holland
Alignment:
Face
Style:
Submission/Strikes
Attitude:
Jem is energetic and forthright. She wears her heart on her sleeve and has good intentions. She became a professional wrestler to further her career as a streamer.
Yamato Nadeshiko
Alignment:
Tweener
Style:
Aerialist/Powerhouse
Attitude:
Yamato is quite confident of herself and her ability to succeed. She will do what she can to make good on that outlook and prove herself to others.
Tracy "Circus Cat" Canon
Alignment:
Face
Style:
Aerialist/All-Around
Attitude:
Tracy enjoys making a spectacle of herself and being the center of attention in the ring. She's the hard working protege of Katherine Hart and aims to make her proud by realizing her full potential in the ring.
Irelia Xu
Alignment:
Face
Style:
All-Around
Attitude:
Classy and optimistic. She welcomes adversity and takes pride in overcoming it.
Brianna Mendez
Alignment:
Heel
Style:
Strikes/Submissions
Attitude:
Wrestles a methodical and slow style to work over opponents while making her point, whatever it may be in the given situation. Bri is quick to assert herself and get defensive, but would really just like companionship and to be understood.
Katherine Hart
Alignment:
Face
Style:
Technical/Powerhouse and Submission Specialist
Attitude:
Kat is usually one of an upbeat demeanor, accompanied by a tendency to be talkative and animated/gesturing. She believes in working hard and earning your keep in the ring. And she's out to cement her legacy on the landscape of professional wrestling.
Lilliana Antiqua
Alignment:
Heel
Style:
Powerhouse/Striker/All-Around
Attitude:
She will do whatever she deems necessary to further her goals
of establishing her family name in the world of professional wrestling.
Sandy White
Alignment:
Heel
Style:
Dirty/Brutish Powerhouse and All-Around (Barring Aerial)
Attitude:
Sandy will assert herself as the better woman and talk trash will administering a beat down.
She's not above bending or breaking rules or people to come out on top.
Isamar "Izzy" Delrey
Alignment:
Face
Style:
All-Around
Attitude:
Boisterous and uninhibited. Isamar values honesty and expression.
Male Roster
Shido
Alignment:
Face
Style:
All-Around (Barring Strikes)
Attitude:
He's upbeat and silly guy of short stature.
Shido enjoys meeting people and getting to know them, wrestling, and researching other wrestlers and their careers.
SWAT
CATS
Alignment:
Face
Dynamic:
Kat will often take charge. and make calls for the team during matches. She oversees
the growth the progress of her faithful fan and friend, Tracy. The two work well together in the ring individually
and balance each other out as a tag team. Katherine brings power, experience, and technical wrestling ability
to the table. Tracy brings bravado, hi-octane offense/aerial moves, and unpredictability.
* Aurora has not yet officially joined, but she will soon!
Upper
Echelon
Alignment:
Brutish Heels
Dynamic:
They pair up as a tag team when they see fit.
This team believes that only the strong survive and believe in resorting to any means necessary to fulfill their individual or team goals.
WiP 2.0
Alignment:
Kat - Face, Erin - Face, Tara - Her own thing, really
Dynamic:
The team was founded on the basis of friendship and the desire to grow and bond together when they can afford the time to
and don't have business elsewhere. Despite their tendency to horse around, each woman is formidable individually.
They have yet to flesh out their in-ring dynamic, though.
Part Timers


(These ladies will wrestle only occasionally. Their primary focus is their jobs mentioned in their descriptions)
Lexy Alan
Alignment:
Face
Style:
All-Around
Attitude:
Lexy is a cheerful optimist. Happy to assist or spend time with almost anyone. She aims to make enough money wrestling to expand her family's bakery franchise.
Occupation:
Lexy hosts a weekly/regular recap show of LAW events and matches!
Ursula Burns
Alignment:
Face
Style:
Powerhouse
Attitude:
Advocates for a healthy living/lifestyle in herself and others. Is trying to set a good example for children and those who need it.
Occupation:
Ursula is a formidable, undefeated wrestler. She's a competent trainer, and a strong side-boss type character.
Dan "The Man" DeFranco
Role:
Owner and General Manager of LAW. Will sometimes delegate GM duties/tasks to others.
Attitude:
Will often make excuses to get out of doing work. He's a fan at heart and would love to just watch wrestlers throw down.