One day earlier
"What... in the hell... is this?!" Came the voice of a woman trembling with anger. She tosses a crumpled gift box onto the ornate desk of the one that coordinated her matches. In the box, a small red bikini spilled out.
The manager peered at the bikini, seemingly unperturbed by the rookie's seething anger towards said package. "That's your outfit for your next match." She replied plainly.
"WHAT THE HELL DO YOU MEAN THAT'S MY OUTFIT?! I'M NOT WEARING THAT STUPID THING! I CAME HERE TO KICK BUTT, NOT TO FLAUNT MY BODY LIKE SOME DUMB-"
The manager slammed a heel down onto her desk, making a loud bang that made Hayley jump and stop dead mid-rant.
"THAT. Is enough out of you." She warned.
Hayley was lost for words at the sudden change in her attitude from last time. She felt a sinking feeling in the pit of her stomach that silenced her.
"You want to be the best? Climb to the top? You gotta do crap you may not always want to necessarily do. Grow up, and get ready for your fight tomorrow."
Hayley whimpers as the law was laid down on her. Her eyes shifted to the bikini, grimacing "But couldn't I-?"
"No. You're done talking. You're going to listen now. You are NOT going to storm to MY office every time you've got a problem with a match I've set you for. The next time you burst in here yelling at me like that, I will personally see to it that you go no farther than bottom card for ANY event of mine.
Hayley lowers her head, and looks away, mumbling something that sounded like a 'Yes ma'am'.
"Now, get out. And take your outfit with you. I'd better see you wearing it too. Or you're going to be a very, VERY. Sorry girl. Am I understood?"
Hayley nods solemnly, and collects the crumpled box before running back out.
-----------------------------------------------------------------------------------------------------------------------------------------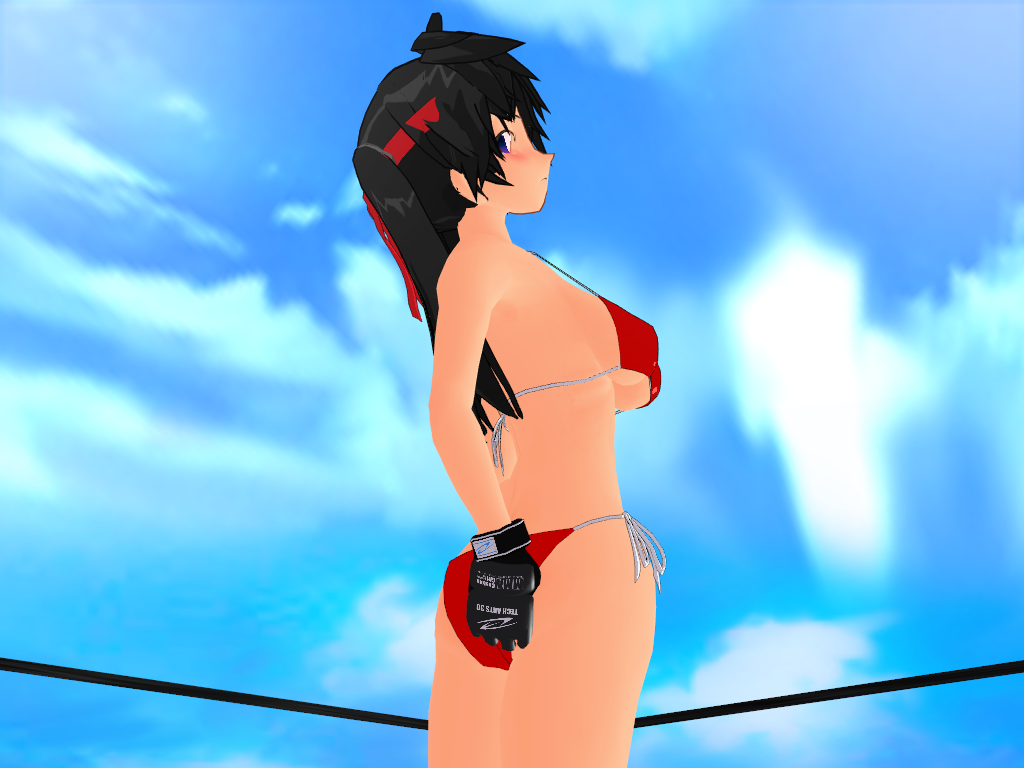 Hayley stood in her corner, looking very annoyed as she stood in the red string bikini that had been provided for her. It felt scratchy and uncomfortable. At least she could keep the headband and gloves. She looked around, seeing the crowd on the sandy beaches surrounding the ring she stood in. Off to the side there was even a shoreline, and the skies were clear blue above her. Any other time she'd be excited about being outside today, but it was being ruined by one certain thing.
"Gh.. stupid.. tiny... riding up my..." She grumbles to herself as she tries to pick the bikini out from her butt for the tenth time. She just wanted her opponent to show up so she could kick her butt and get out of this.