TV-worthy
Posts: 351
Joined: Mon Dec 04, 2017 5:17 pm
Has thanked: 0
Been thanked: 8 times
Cyrena Eros vs Ana Satala
First to cum hentai match

Ana was in the locker room changing into her favourite white wrestling bikini that contrasted nicely with her brown skin and showed off her superb cleavage and curvy ass to maximum effect. It was her debut match and, although she was confident of beating Cyrena, Ana was still nervous in case something went wrong in the ring in front of the big crowd on her first LAW outing. She wondered how Cyrena was getting on in her own preparations and hoped the Cypriot was also as nervous of her, but then her name was called and she started to make her way to the backstage area.  
Right on cue as she arrived at the doorway into the arena the PA system began to play her entrance music ,The Grand March of Aida, Act II, scene 2. Ana knew that not many wrestlers had bothered to use such a fine classical piece for their intro but she was quite a 'retro' sort of gal and this worried her not a bit. 
No turning back now girl! Ana told herself as she walked onto the entrance stage with a confident smile on her face, raising her arm to acknowledge the cheering crowds. This must be almost what a goddess must feel like. As she progressed down the walkway waving from side to side, the voice of the ring announcer came through the speakers ''Now entering from Hamadān, Iran weighing in at around 149 lbs, Ana Satala... the Immaculate One!" 
Ana climbed nimbly up to the ring and, flicking her long purple-black hair, vaulted effortlessly over the top rope to make absolutely clear how fit and ready she was for the tough match to come. Now there was nothing to do but lean against the ropes performing her last stretches as she waited the arrival of the other wrestler.
Ana Satala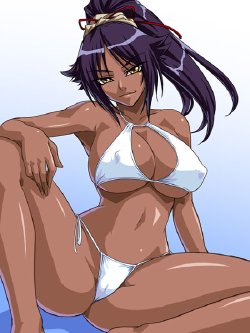 ---
Legend
Posts: 4311
Joined: Sun May 21, 2017 11:24 am
Location: trillian ashleysexfighter
Has thanked: 188 times
Been thanked: 61 times
Cyren was in the locker room on the other side of the building as the people in charge thought it wise to keep them as far apart as possible until the match would begin. Still at the moment the Cypriot was wondering what she should be wearing as she wanted to wear the attire she decided would be her default hentai attire , but chanced her mind at hearing the news that Ana was going to wear a bikini.
In the end Cyrena would however go with her orange bikini as she would smirk as she looked at herself in the mirror. Still the moment she would leave the locker room as she started to feel fear as she was going to be facing someone who was exactly like herself. As both woman were proud of their skill in sexual fighting and neither would be able to endure the feeling of defeat as she knew it would drive her mad in anger if someone this woman from Iran would end up the victor.
Still when she entered the backstage area all her feelings of doubt were gone as she could not think for even a second she was going to lose before stepping into that ring then she would. So when Aphrodite by Kylie Minogue started to play the brunette would walk onto the entrance ramp as the crowd cheered loudly at seeing the second wrestler walk towards the ring. Especially when the ring announcer would say ''
and here opponent from Agros, Cyprus.Weighing in at around 145ibs, it's Cyrena Eros aka the self proclaimed Aphrodite reborn'
' as one of the commentators filled in the crowd that both wrestlers were either named or using the name of one of the goddess of love.
Walking up the steel steps the brunette would step over the top rope as she would look into Ana's eyes as she whispered ''
hope your ready to lose as everyone here will see you fall, and with you the pathetic legacy of those stupid Persian myths''
---
TV-worthy
Posts: 351
Joined: Mon Dec 04, 2017 5:17 pm
Has thanked: 0
Been thanked: 8 times
Ana looked her opponent coolly up and down as if weighing her up for a moment. She saw the Cypriot wrestler had opted to wear an orange bikini accentuating her full breasts and the vee of her crotch which pleased Ana greatly; as both women were now so skimpily clad that they would have little protection once they started going for each other in a big way. And the Persian woman remained convinced that the sexual battle was one ultimately she could win. 
"Huh - make feeble jokes while you still can... 'cos soon you will be trembling beneath me as I grind you to a harder submission than you ever suffered before."

And Ana got up on the ropes and waved her fist to the crowd shouting out:
"Are you all ready to watch me take this bitch down and badly?? I can't hear you - shout back and tell me if you are!"
She was then delighted when several rows of the audience burst into spontaneous cheering and applause.
Smirking across at Cyrena as she was getting off the ropes she taunted her opponent while beginning to pace round the ring.
"At least I've got my fans out there - and I'm gonna gain a lot more before this night is over."
---
Legend
Posts: 4311
Joined: Sun May 21, 2017 11:24 am
Location: trillian ashleysexfighter
Has thanked: 188 times
Been thanked: 61 times
'
'Who said I am joking Ana, and it easy to make fans when dressed like this as they cheer for anything
''replied Cyrena irritated as she was not happy the other wrestler got over with the fans before she did. This made worse when her opponent actually said it to her face as she quickly got onto the ropes herself as she stared at the fans.
''
Who here wants to see me strip her naked , and then force her to have an orgasm in front of everyone as nobody cares about this loser right. I mean all you want to see if me strip her naked , and throw her pathetic bikini into the crowd so two of you lucky fans can have a souvenir
''while she looked t them.The responds she got was amazing as they started chanting '
'strip that gir
l'' as she turned around to look at Ana with a smug smirk on her face.
---
TV-worthy
Posts: 351
Joined: Mon Dec 04, 2017 5:17 pm
Has thanked: 0
Been thanked: 8 times
Ana could see that her successful working of the crowd had got Cyrena pissed, but the Cypriot's riposte was masterful, and before Ana knew it chants of "strip that girl" were ringing in her ears. The Persian couldn't wait to wipe the smug grin off the other woman's face but it wasn't time to start yet, so she paced round the ring then leapt up on the ropes once more, shouting loud enough for the audience to hear as she pointed with her finger aggressively in the brunette wrestler's direction.

"Think you're gonna make me orgasm in front of this wonderful crowd tonight? Well think again! Cos I'm gonna force it on you so hard you'll beg for merciful release in the end. And your cum-stained bikini will make a perfect souvenir for those lucky fans! Who wants Cyrena's bikini when I'm done with her? You two ladies over there? You got it!"

Ana felt excitement as she saw the referee was calling both wrestlers to the centre of the ring finally to start the match. As she stepped lightly off the ropes she wondered if the Greek would shoot her big loud mouth off again. Probably, but I'll make her eat her words in the end she thought wryly to herself.
---
Legend
Posts: 4311
Joined: Sun May 21, 2017 11:24 am
Location: trillian ashleysexfighter
Has thanked: 188 times
Been thanked: 61 times
Cyrena knew she had regained the loyalty of the fans for now , but as she had demonstrated they could be easily chance alignment to her opponent if she manage to say the right words. Sadly for her however was the fact that Ana knew just what to say as the bitch played the fans perfectly as the moment she mention that she would take her cum stained bikini , and give it away to one of the fans they started chanting loudly only for two ladies to be the lucky two who would get it if the other wrestler won
''
Well you traitors will be going home without an souvenir then
''screamed the brunette as she would try to lock up with the woman from Iran as she would try to push her towards the ropes.The moment she had Ana against the ropes she would lean forward so she could press her breasts against them as she whispered
''nicely played with those losers''
---
TV-worthy
Posts: 351
Joined: Mon Dec 04, 2017 5:17 pm
Has thanked: 0
Been thanked: 8 times
Ana gasped as Cyrena rammed her against the ropes, feeling the Greek's big, firm breasts pressing into hers, both women's nipples quickly growing erect as they struggled.
"Well, it's not so difficult to give the crowd what they really want,"
she hissed back.
"Stick around a bit longer and I'll teach you some even better tricks."

The Persian went straight on the attack as she snaked one hand into Cyrena's luscious brunette locks, pulling the Greek back by the hair while the other dived inside the orange bikini briefs and began fingering her pussy without mercy.
"Omigod!"
Ana shouted in delight, holding her moist fingers up to show the crowd.
"The bitch is so wet for me already! This won't take long at all, believe me!"
---
Legend
Posts: 4311
Joined: Sun May 21, 2017 11:24 am
Location: trillian ashleysexfighter
Has thanked: 188 times
Been thanked: 61 times
Cyrena had bin able to push the other woman into the ropes as she pressed her firm breasts into the other wrestler as the crowd cheered her on.Then came the fact she heard Ana gasp as she smirked at hearing the dark skinned woman's threads. Only for her good mood to be ruined when the Persian would grab her beautiful hair , and slide her hand inside her bikini brief.
What Ana would say next would get the fans on her side as she wanted to scream the bitch was a Lying..However that would only make the Cypriot look weak as she would push her opponent away , and follow it up with a slap to Ana's face as she whispered ''
liar
''.
---
TV-worthy
Posts: 351
Joined: Mon Dec 04, 2017 5:17 pm
Has thanked: 0
Been thanked: 8 times
The last thing Ana expected was for her opponent to push her away and deliver a slap to her face and she just stood there for a moment, feeling her cheek stinging and reddening. But she recovered quickly from her surprise and whispered
"Prove it"
as she raised her hands, fingers outstretched, challenging the brunette to a test of strength. The Persian had wanted to match her strength and go body to body against the hot looking Cypriot from the moment her eyes had first rested on her in the gym. But the question was how Cyrena would respond, now that Ana had got her so nicely riled up.
---
Legend
Posts: 4311
Joined: Sun May 21, 2017 11:24 am
Location: trillian ashleysexfighter
Has thanked: 188 times
Been thanked: 61 times
Cyrena knew the slap made her seem weak , but she did not knew how to responds other wise as it was only made worse by that damn Iranian telling her to prove it.
''That's impossible you bitch.Still I am going to get even with you for lying to the fans
''whispered the brunette as she would entwine her hands with her opponent as she would accept the test of strength as she would let her breasts touch her opponent's for a second before she start to push.
---
Random Topics

Replies
Views

Last post