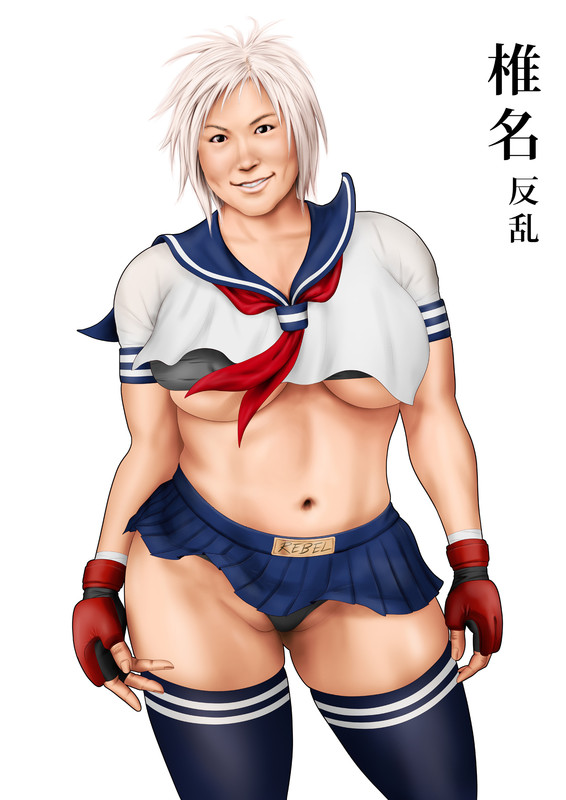 Birth Name:
Shiina Sai
Ring Name
Shiina Sai
Age:
21
Hair colour:
Dark brown (natural)or bleached platinum, platinum blonde, strawberry blonde.
Eye colour:
Brown
Height:
5'5 (165cm)
Weight:
145lbs (66kg)
Born:
Tokyo, Japan
Billed From:
The Detention Hall
Entrance music:
Spoiler
Alignment:
Tweener
Nationality:
Japanese
Fighting Style:
Brawler, dirty
Nicknames
Class Rebel
School Rebel
Physical stats
Endurance ★★★★☆ No matter how tired and worn out she looks her gas tank never seems to empty
Strength ★★★☆☆ Quite strong for her size but not overwhelmingly so. She can pile on damage through repetition
Speed ★★★☆☆ Not her strength, but can speed things up in short bursts
Defense ★★★★☆ Annoyingly resilient she always seems to be able to withstand anything
Technique ★★☆☆☆ Most of what she does was self taught. Her technique is very crude.
Wrestling Stats
Strikes ★★★☆☆ While she can strike quite well her technique and precision is lacking
Grappling ★★★☆☆ She can quickly land power moves but more due to her tenacity
Submissions ★★☆☆☆ She can lock in simple submissions, but nothing fancy or very well executed
Aerial ★★☆☆☆ Not particularly one to leave the mat, unless she's frustrated
Counters ★★☆☆☆ She is too stubborn to try and counter, unless she can make her opponent look silly.
Wrestling Style
Shiina is a very much in your face brawler who favours hitting and throwing her opponent around with reckless abandon, but with little finesse or sense of her opponent making a comeback. Her ability to absorb punishment can make her quite cocky towards her opponent's offence, even at times seemingly getting stronger from the damage, but at the same time can spell danger due her lack of ability when caught in a sticky situation. When backed in a corner she will resort to dirty tactics and although not a hardcore wrestler favours using a chair for additional damage. At any rate Shiina welcomes a challenge, for the love of wrestling. Despite her sometimes underhanded tactics she can endear a crowd with her heart and determination to win.
Finishing moves
Rebel Driver
(Torture rack piledriver) Reserved for the hardest of opponents
Spoiler
FU2
(Fireman carry piledriver/ Samoan Driver) Her common finisher
Spoiler
Spoiler
Classroom Nap
(Rear naked sleeper/ choke, sometimes flipping her opponent to the floor) Desperation
Spoiler
Signature moves
Tsunami Bomb (Fireman carry spinebuster)
Tsunami Driver (Running death valley bomb into turnbuckles)
Rebel Boot (Running boot to a seated opponent)
Rebel Otoshi (Uranagi)
Superplex followed by a Fisherman brainbuster
Back drop suplex
Elbow strikes
Diving elbow drop
Camel clutch
Boston crab
Deadlift german suplex
Thez Press
Background
Shiina was raised by a negligent mother and a travelling father, along with a younger half sister and brother. While her father would provide she felt resentment for a father that never seemed to be around and as she got into her teens sought ways to make her own money.
Shiina's favourite pastime was watching anything to do with fighting, especially pro wrestling. She would start fights with the older boys in her neighborhood and in school, forming friendships with sketchy individuals who although wished to take advantage of her respected her for her tough ways.
Wanting to make her own money Shiina did odd jobs and in her mid teens was asked to work in a maid cafe. She did it for the money but hated it. One evening a rude patron groped her, causing Shiina to make a scene by knocking the man out. One of the men who witnessed Shiina defend herself was a street fighter manager and would offer her a chance at making it in underground fighting rings. Shiina, although hesitant, later accepted, figuring that she would back out if she didn't like it.
The manager turned out to be a shady character, making strong sexual advances towards Shiina. By this time she had her foot firmly in the door and had built a reputation underground and was therefore able to ditch her manager and make money all for herself. Her love for fighting took over her life and she began to skip school to train. Her grades plummeted and due to her parents hardly being around she got away with it.
Throughout her teen years Shiina acted like a parent to her siblings, despite being only a year or two apart in age. Eventually the Class Rebel realized that she was becoming a bad example to her siblings and decided to return to school, with aims of studying at University. At the same time, her time as an underground fighter opened doors for her to become a pro wrestler. A guidance councilor who also managed a community gym to reform delinquents, called Graduation Nation, was able to get Shiina to work as a freelance pro wrestler.
Now at University she also pursues her love for wrestling at LAW and dons her custom sailor fukus with a sense of nostalgia for her street fighting days. She is sometimes joined by her younger sister who acts as a manager and hype girl for the Class Rebel.
Alternative costumes
High school street fighting days
Spoiler
Graduation Nation leotard
Spoiler
MMA fight gear
Spoiler