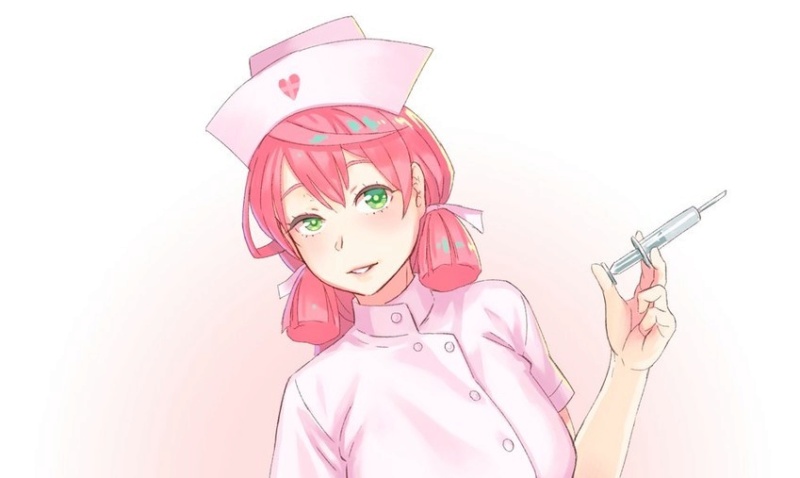 Name: Asaki Asakira
Alias: The Nurse of Love
Sex: Female
Age: 21
Eyes: Green
Hair: Pink
Height: 5'5" (165cm)
Weight: 125lbs
Nationality: Japanese
Alignment: Tweener
Entrance Music

[youtube]9lNZ_Rnr7Jc[/youtube]
Wrestling Information
Strategy:
Highly energetic but also not very experienced, Asaki uses her enthusiasm and speed to try and overwhelm her opponents. She enjoys getting up close to her opponents and grappling, especially loving body contact and pitting her sexy form against her opponent. She enjoys pinning her opponents down and rubbing her body all of theirs, calling it her "examination". She is not particularly strong, but she is quite lewd in her matches, and enjoys embarrassing or humiliating her opponents into giving in.
Type:
Jobber
Preferred Matches:
Hentai (orgasm only, submission, humiliation), Standard, Soft matches, submission matches
Statistics based on percentiles
Endurance: 60%
Strength: 50%
Speed: 75%
Defense: 55%
Technique: 45%
Favored moves:
Cross-body pin
Grapevine
Full-body pin
Breast smother
Butt smother
Facesitting
Spanking
Wedgies
Finishing moves:
Still in development
Characteristics
Visual Appearance:
Standard Wrestling Attire
Nurse Attire
Bunny Suits
Bikinis
Other costumes
Casual clothes
Naughty stuff
Physical Appearance:
B/W/H: 36/28/38 (D-cup)
A beautiful girl with a nice full figure and pink-dyed hair, Asaki is energetic, bouncy, bubbly, expressive, and fun! Her body is soft in all the right places, pale and unblemished, though in the summer she often sports a nice bikini tan. She has a full chest and strong legs, with a tight booty. Her hair is normally black in color, but she keeps it dyed a bright bubblegum pink.
Personality:
Fun-loving and energetic, Asaki loves to meet new people and make new friends, particularly with girls that she finds cute. She especially enjoys "taking care" of them, though her definition of that is a bit different than others. That being said, she does not always fight fair if it gets in the way of her fun, and she takes particular pleasure in humiliation and being humiliated. But she doesn't hold hard feelings after fights, and hopes that whomever she goes up against winds up being her friend (if they're cute, of course!).
Past/History:
Asaki knew she was a lesbian from a very young age, almost as soon as she hit puberty, in fact! She was a girly girl type, liking cute outfits, dolls, other girls, but for a different reason than most. Her parents, though not entirely happy about it, supported her and gave her a loving childhood. Asaki grew into an energetic and lively girl, loving sports and fashion during high school. She eventually went into nursing and sports medicine during university, which she particularly enjoyed due to working exclusively with some sexy athletic women.
It did not take her long to find her way to the LAW, working as a nurse in the hospital ward part-time as she continued university. The job had all the perks that Asaki wanted, good pay, benefits, reasonable hours, and the chance to work on some extremely beautiful women. She was always more careful and caring than the other nurses, though she did get handsy in some rather inappropriate ways several times.
At her university, she still participated in many sports, and was considered quite an athletic beauty. She caught the eye of an LAW talent scout during one of the annual summer beach volleyball tournaments. After revealing that she already worked there as a nurse, Asaki got firm encouragement from the scout to try out for the LAW league. She was given a number to call and a contract to sign, and next thing she knew she was on her way to a tryout.
Unfortunately (or perhaps fortunately), the tryout was a hentai match. Asaki was not prepared for something like that, but she found herself loving every moment of it. Her performance was quite stunning during the match, which made LAW sign her up immediately.
Still Asaki was a bit hesitant. She knew how nasty some people in the LAW could get, and she wanted some backup. Luckily she her best friend was also working at the LAW, and she had been approached by an LAW scout too. It only took a little bit of convincing on Asaki's part to get her friend to join as well. And so Yvette and Asaki joined LAW together as their newest tag team, The Part Timers!
Fun Facts:
LAW Information

Part of a tag team with Yvette Lotharingian called The Part Timers
Record:
Wins:
Losses:
Draws:
Championships/Accomplishments:
Friends:
Allies:
Rivals:
Enemies:
Crushes: